Hello fellow MIC lovers!
I'm here with a new card, you all must have seen the new to Make It Crafty images by Krista, which by the way is just awesome! Well I've used Pretty Pumpkin today and even though it lends itself to really strong fall colours with the girl holding the pumpkin and all I just needed to be different didn't I ;). I had coloured her skin and was debating with myself which hair colour she should have, the only thing I knew was that I for once didn't want to use the same colour scheme as Zoe, she is awesome at choosing colours. So I picked out my lightest browns, the E40s and then the colour scheme just came together.
For the background I played with my go to smooshing technique, I want through 3 other backgrounds until decidingon this one. Using Tattered Rose, Weathered wood for the smooching and then splattered some Worn Lipstick and Ground Espresso over it.
For the last details I used some wonderful chippies also from Make ItCrafty. I have stars in three different sizes and the Hello sentiment. I coloured them with Distress Paint, and as I didn't have either Worn Lipstick or Tattered Rose as paint I choose to blend some Abandoned Coral with some Picket Fence, I also didn't have Weathered Wood so the grey stars are a metallic paint called Brushed Pewter, I then covered them all with some nice glitter glue.
Copic:
E40, E41, E42, E43
E50, E00, E21, E11, E04
R30, R32, R35
N0, N2, N4, 0
B21, B23, B34
Supplies:
When possible affiliate links are used, this means that I receive a small commission when products are purchased through the links (at no extra cost to you) I use the money to support my blog and youtube channel. If you like my projects and tutorial please consider supporting me by clicking through these links when you shop. Thanks!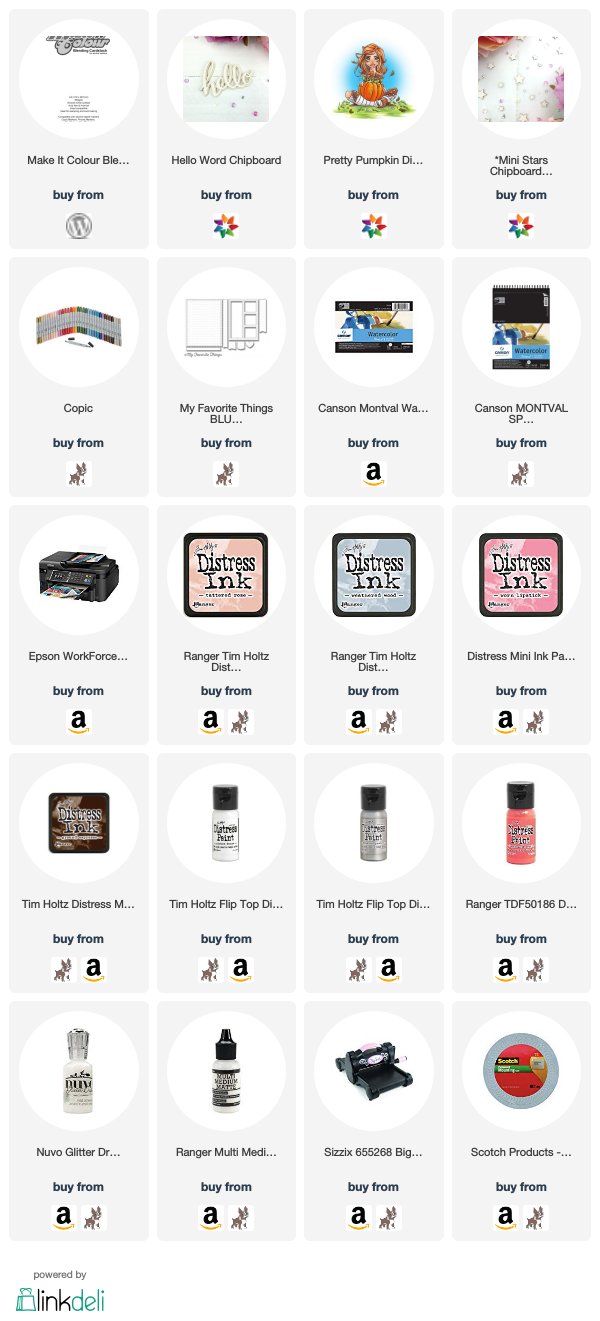 https://linkdeli.com/widget.js?1549439153802