Hi! As promised here is the video showing how I use the Impact Alphabet Dies to create a clean and simple card. This was the card that started it all. I really enjoyed playing around working with the limited supplies. Having made cards for over 12 years I have a lot of supplies. And I like many other also love playing with new stuff, so I do add to my stash regularly. Sometimes that makes me little overwhelmed, too much to choose from. So with this I decided to reduce my choices and I really like the outcome.
I ended up doing four versions of this card even though I only used two colour schemes. The video below will show how I put this together in one of the colour schemes, white and Summer Splash.
The idea started with the alphabet dies. I have seen these cards out there with these bold and big sentiments, I have done some myself, like THIS one. I wanted to do a super clean and simple one that was easy to be made in bulk, but still had enough details to be interesting. So I limited the colour scheme to white + one colour.
I knew I wanted to add a panel to my card base, it helps with framing. So I choose the one in the Blueprints 27 as it also have the little scalloped edge for extra detail. When layering the letters on the panel I felt it looked a little plain, so I decided to switch one of the letters to the other colour. This helped the eye to stay longer on the sentiment.
To finish off the sentiment I needed somewhere to stamp the New Year. So I cut a flag in white using another die from the Blueprints 27 set. I did shorten the flag, and I show you how to do this using the die in the video. I stamped the New Year stamp in coordinating ink in the flag. The only New Year stamp I had was one from a Hero Arts stamp set I had for years. When I cut it apart I accidentally cut a little too far in the A, but I didn't mind. But for next year I'm definitely picking up another New Year stamp (or two).
The card was almost ready, but needed that little extra. So I created my own popup sticker by layering die cuts from the Sweet Snowflake die together, mixing the colours. I ended up making about 30 of these cards, I took my big shot with me to the living room and was watching movies while cutting out all the die cuts.
Thank you for coming to my blog. How are you liking it so far? Hugs Marika
Supplies:
When possible affiliate links are used, this means that I receive a small commission when products are purchased through the links (at no extra cost to you) I use the money to support my blog and youtube channel. If you like my projects and tutorial please consider supporting me by clicking through these links when you shop. Thanks!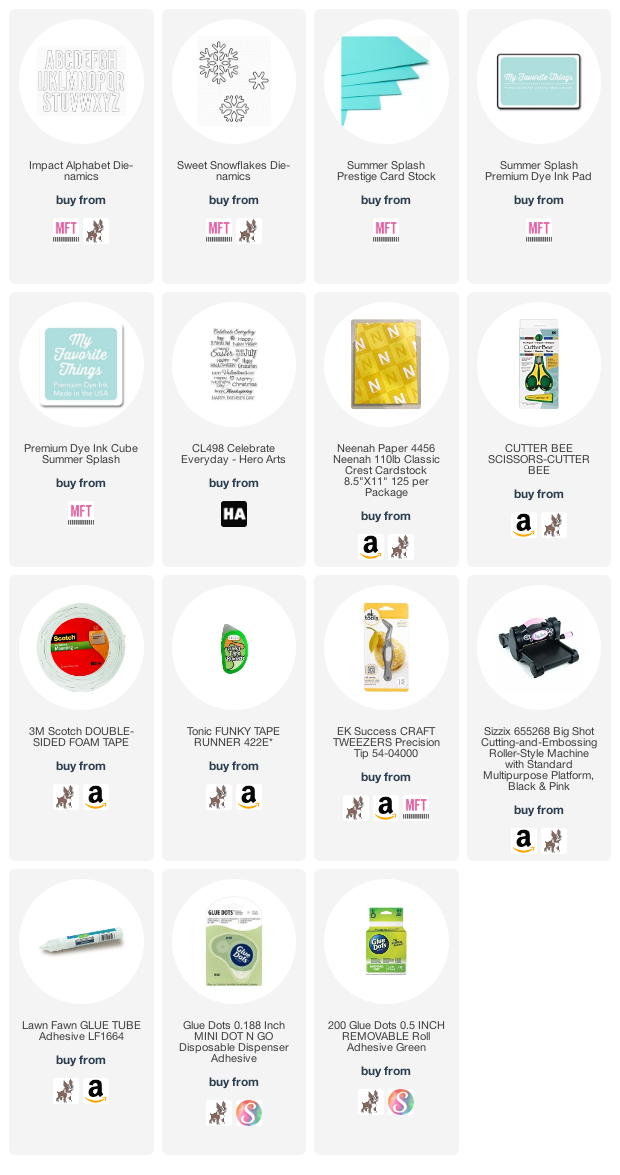 https://linkdeli.com/widget.js?id=f5e8378456858c916708