When I saw Barbara share about her Polka Dot Pals Freebie I just knew I had to have it and make a video about it. So in todays video I show you how to create a card with Polka Dot Pals Gemma and how to layer diecuts of the same size and shape to make the focal image pop from a very buzy background.
I love Polka Dot Pals and when I had to take the big decision to leave the DT team for Little Miss Muffet Stamps back in late 2016 I did it with a heavy heart. I was even more sad when Barbara closed the door to Little Miss Muffet Stamps a couple of years later. And I was equally happy when I heard that she had taken her Polka Dot Pals to Whimsy Stamps and I could start craft with them again. However due to economical constraints I haven't been able to purchase any stamps yet.
It is looking a little bit better tho and after picking up Gemma (which is a freebie, have I told you that yet?!) and colored her up I now know that I have to make room in my budget for the other Polka Dot Pals.
I had so much fun, creating her face (she looks a little bit tired/sad tho, so next time I have to make sure the iris is a bit rounder) and picking out the colors. In the back of my mind I knew I wanted to use the Love Notes papers from Doodlebug Design so I tried to pick the green and red to match and a blue that could coordinate.
To create the card I actually didn't know how it would turn out going into it. I picked out some papers from the pad, one of them had a bunch of tags. I didn't end up using that paper, but the tag got me digging among my stash for different tags and settled with the Cross-Stitch Tag die by My Favorite things. It's a one off, but after cutting out my papers I found that the papers in themselves didn't have enough contrast between them. So I cut out another of the tags, this time in white cardstock, and layered it behind the other one at an angle. And there I got the contrast and the tag got visible and a perfect layer for my focal image.
Hope you enjoy my videos and the card. Btw I have a tiny tiny giveaway on the cardmaking video, more information in the video 🙂
Copic:
E04, E11, E21, E00, E50, R30, R32, B37, B24, B21, B63, B60, E53, E55, E57, E47, E44, E43, E42, E41, E40, N3, N1, N0, 0, YR14, YR14, YG05, R05, B26
When possible affiliate links are used, this means that I receive a small commission when products are purchased through the links (at no extra cost to you) I use the money to support my blog and youtube channel. If you like my projects and tutorial please consider supporting me by clicking through these links when you shop. Thanks!
Supplies: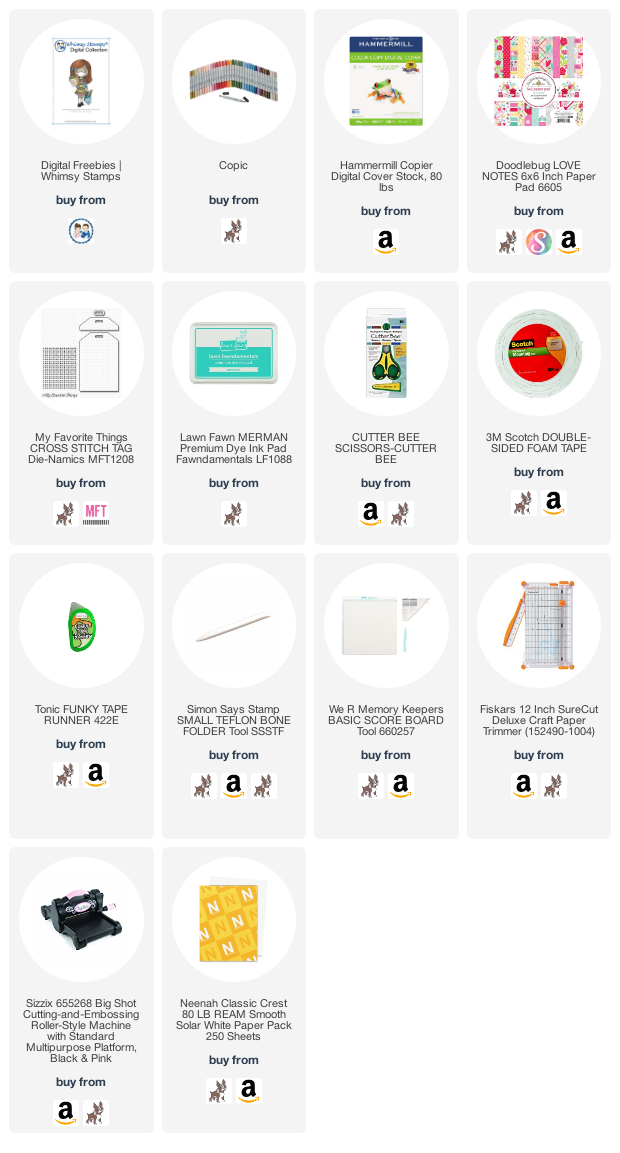 https://linkdeli.com/widget.js?id=f5e8378456858c916708