I'm very passionated about coloring, coloring was what made me really enjoy cardmaking. I do feel a bit rusty, going from doing it on almost a daily basis to not picking up a marker for months. But I still wanted to join in with the challenge.
The Coloring Virtuoso category is described as:
Whether your preferred medium is paint, marker, or pencil, coloring is a skill you've honed since those early years spent with Crayolas and a favorite coloring book. The MFT collection of images is vast, so now is your opportunity to show off your exceptional coloring skills!
My preferred medium is definitely markers, I picked up my first markers 7 years ago and I now have the whole Copic set and I love them. I usually color the characters separately and then make a clean and simple cards. But this time around I wanted to do something that I really wanna learn more about, that is making a one layer scene.
The stampset I used is Friends at first Sip, and I wanted to continue with the autumn theme. As the coffee wagon was smaller than the characters I decided to give it a little bit of debt. The idea went through a bunch of different iterations. It started out being based on the topiaries that exists in the stampset, but I quickly realised that they wouldn't fit the way I wanted on a A2 card and I wanted to stay in that size. But the idea of drinking coffee in the park stayed.
I hope you enjoy this, and did you get inspired to try you too? Leave a comment down below with your answer.
When possible affiliate links are used, this means that I receive a small commission when products are purchased through the links (at no extra cost to you) I use the money to support my blog and youtube channel. If you like my projects and tutorial please consider supporting me by clicking through these links when you shop. Thanks!
Supplies: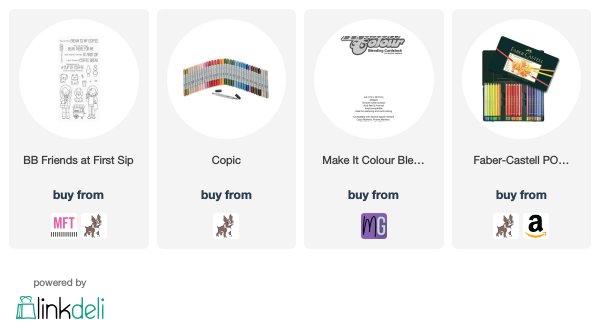 https://linkdeli.com/widget.js?1559654439292